There was already quite a bit of hype around the 2019 Lamborghini Aventador SVJ before the company took it to the Nürburgring Nordschleife a few weeks ago. Lamborghini has a history of sending its flagship supercars into the sunset with particularly crazy swan-song models, so more than a few fans likely plunked down deposits some time before factory driver Marco Mapelli strapped on his helmet and gloves, plopped himself inside a camouflaged SVJ, and proceeded to break the record lap time for production cars around the 12.9-mile Green Hell. At 6:44.97.01, it was more than two seconds quicker than the Porsche GT2 RS, which circled the 'Ring in 6:47.3.
The Aventador SVJ turned that hot lap wearing camo, so the car made its official debut during Monterey Car Week, already basking in considerable glory. This is a remarkable feat considering that its bones are nearly a decade old. Thanks to fastidious and continuous development since the model was officially launched in 2011 as a 2012 model, the Aventador has gotten remarkably better as both a head turner and a track beast. And the Aventador SVJ represents the culmination of all of the company's efforts to make it lighter, faster, and grippier.
VIEW 23 PHOTOS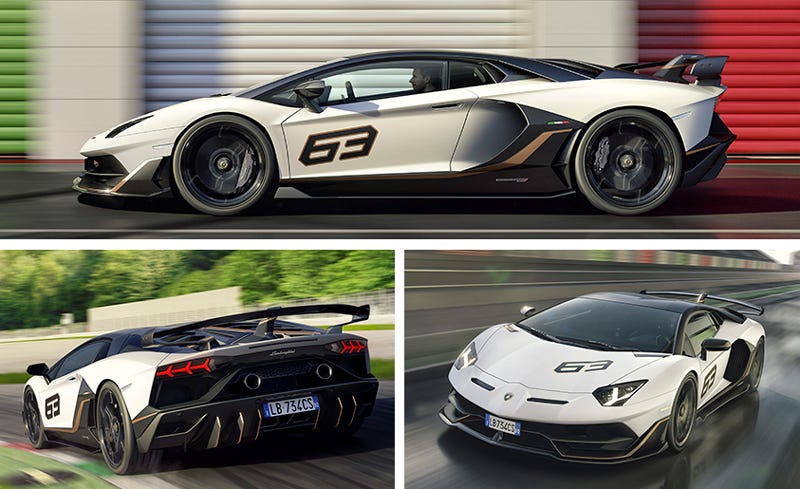 First, the head-turning part. The SVJ has lots of new eye candy on the outside, with a new wider multilevel front splitter, air extractors, and broader, ground-hugging rocker panels merging into an even wider air intake for the engine. Out back, the engine cover has been redesigned (it still offers a glimpse of the engine), as has the entire rear bumper, which is more of a combination of extractors, outlets, and vortex generators. And, of course, there's the wing. A special SVJ 63 model goes extra heavy on the exposed-carbon bits and adds a carbon-fiber roof panel but otherwise is little changed over the standard SVJ.
Born for the Track
The SV in this new model's name denotes "Super Veloce," and to that end, with titanium intake valves and new intake runners, a new lightweight exhaust system with reduced backpressure and what Lamborghini calls "the most emotive sound," 759 horsepower is now unleashed from the Aventador's naturally aspirated 6.5-liter V-12, 19 ponies beyond its previous high-water mark of 740 horses. As always, the power is found up high, at 8500 rpm, as is the torque, which rises to 531 lb-ft at 6750 rpm—21 lb-ft more than in the SV. Lamborghini claims that with help from an optimized seven-speed sequential gearbox, going from zero to 62 mph takes 2.8 seconds, and top speed remains in excess of 217 mph. Thanks to huge carbon-ceramic brake rotors, the car is said to be capable of halting from 62 mph in just 98 feet. When we tested the 2016 Superveloce, we hit 60 mph in 2.7 seconds, so Lambo's estimates for the SVJ—impressive though they are—look conservative.
VIEW 23 PHOTOS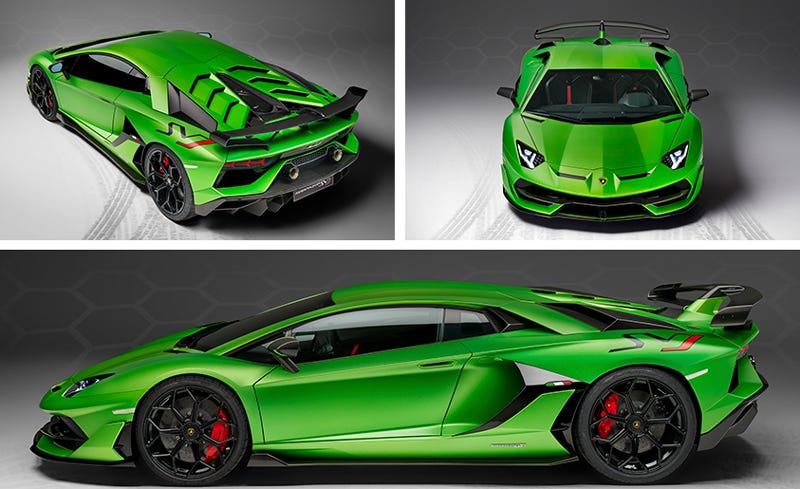 The J stands for Jota (pronounced "yota"), which, according to Maurizio Reggiani, head of Lamborghini research and development, is applied to a car that "is born to be the best in terms of performance on the track." That requires not just horsepower, Reggiani said, but also the ability to use "all of it, as often as possible." For this, stability and grip are key. Reggiani credits the fitment of rear-wheel steering to the Aventador line in 2017 and also the SVJ's next-level Aerodinamica Lamborghini Attiva (ALA) active aerodynamics—trick active "aero vectoring" that opens or closes internal flaps inside the front splitter as well as on the engine bay—for giving the car plenty of stick.lamb
Balancing Attributes
For the SVJ, Lamborghini recalibrated the rear-wheel-steering system and "rebalanced" the dynamic power steering to reflect the SVJ's specific aero loads and newly developed Pirelli P Zero Corsa tires. Street-legal Pirelli P Zero Trofeo R tires are optional and were used for that epic Nürburgring run. Also recalibrated is the suspension, with anti-roll bars that are 50 percent stiffer than the SV's and a higher damping force range that is 15 percent greater than in the SV, with recalibrated magnetic dampers said to improve body and wheel control for track purposes.
With this sort of continuous development, it's easy to see why the Aventador has remained a strong seller among flagship supercars, with Lambo pumping out more than 1000 of them every year it has been on the market. Given its newfound gravitas, and with production capped at 900 Aventador SVJs plus 63 copies of the Aventador SVJ 63, they all are guaranteed to sell quickly. Lambo is taking orders now, with prices starting at $521,395.
Source: Car and Driver